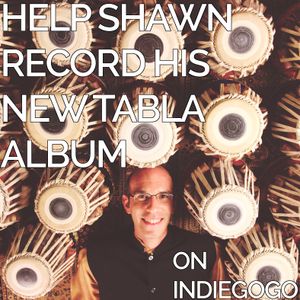 Dear friends, 
I am excited to announce that I will soon be recording my first traditional solo tabla album, RIVERS! This will be a full-length tabla solo, in the style of the Benares gharana; a rhythmic journey to Varanasi, India! I am planning to record the album in December, in Toronto with fabulous musician George Koller accompanying on dilruba. I am truly inspired, and cannot wait to get into the studio to record, and to be able to share this music with you! The album release is planned for March, 2017. 

 
There are, of course, numerous costs involved with recording an album such as this, and so I have launched an IndieGogo crowdfunding campaign to help cover expenses. Please have a look at my IndieGogo page, where you can read more about the album project in detail. I sincerely hope that you will consider encouraging me in this musical adventure, that is so important to me and close to my heart. There are many fun perks that you can choose from, such as pre-ordering the album itself, Skype lessons, or even the possibility to book a private concert! To record a solo tabla album has been a longtime ambition of mine, and your generosity will help me to realize this dream! Please also share this campaign with your friends who might also be interested. Your assistance with this project is so very appreciated and means a lot to me.
Here is the link to my IndieGogo page: https://igg.me/at/tabla 

And in the meantime, here is a little taste of me performing tabla solo with George Koller on dilruba, recorded live at the Music Gallery in Toronto:
Many thanks! 
Shawn