This page is my personal tribute to the Benares tabla gharana (Benares is also sometimes written as Banaras, and the city is now officially known as Varanasi; its ancient name is Kashi).

First, is a chart showing some of the guru-shishya lineages within the gharana; next are biographies and photos of some famous Benares gharana tabla players.

The Benares tabla gharana was developed a little over 200 years ago by the legendary Pandit Ram Sahai (1780-1826). Ram Sahai began studying the tabla with his father from the age of five. At the age of nine, he moved to Lucknow to become the disciple of Modhu Khan of the Lucknow gharana. When Ram Sahai was seventeen years old, Wazir Ali Khan, the new Nawab, asked Modhu Khan if Ram Sahai could perform a recital for him. Modhu Khan agreed, on the condition that Ram Sahai would not be interrupted until he finished playing. It is said that Ram Sahai played for seven consecutive nights. After this incredible performance, Ram Sahai was praised by all the members of the community and was showered with gifts. Shortly after this performance, Ram Sahai returned to Benares.
 
After some time performing in Benares, Ram Sahai felt the need to make a significant change in his tabla playing. For six months, he withdrew into seclusion, and worked to develop what is now known as the Benares baj or style of tabla playing. The philosophy behind this new style of tabla playing is that it would be versatile enough to perform solo, and to accompany any form of music or dance. The tabla would be able to play delicately, as required for khyal, or more aggressively, like pakhawaj, for the accompaniment of dhrupad or kathak dance. Ram Sahai developed a new way of fingering the tabla strokes; especially important is the sound Na, being played with a curved ring finger to allow for maximum resonance of the dahina. He also composed numerous compositions within existing compositional forms (gats, tukras, parans, etc.) and created new forms, such as uthan, Benarsi theka, and fard.
 
Today, the Benares tabla gharana is well known for its powerful sound, though it is important to note that Benares players are also very capable of playing delicately and sensitively. The gharana is categorized into the Purbi (eastern) baj, which includes the Farukhabad, Lucknow, and Benares gharanas. The Benares style makes use of the more resonant strokes of tabla, such as Na (played on the lao), and Din. Benares players preferentially use the full-hand TeTe strokes, rather than the single finger alternation preferred by the Delhi style, though both stroke types are integrated into the Benares baj repertoire. Benares tabla players are successful in all forms of tabla playing, including tabla solo, instrumental, vocal, and dance accompaniment. The tabla solo is highly developed in the Benares gharana, and some artists, such as Pandit Sharda Sahai, Pandit Kishan Maharaj, and Pandit Samta Prasad, have become famous as tabla soloists.

The Benares baj makes use of over twenty different compositional types, and has an enormously varied repertoire of each type.
Cette page constitue un hommage au gharana de tabla de Bénarès (Varanasi). En premier, un tableau représentant la lignée guru-shishya de ce gharana . Ensuite, les biographies et photos de quelques joueurs de tabla renommés de ce gharana. (Textes disponibles en anglais seulement.)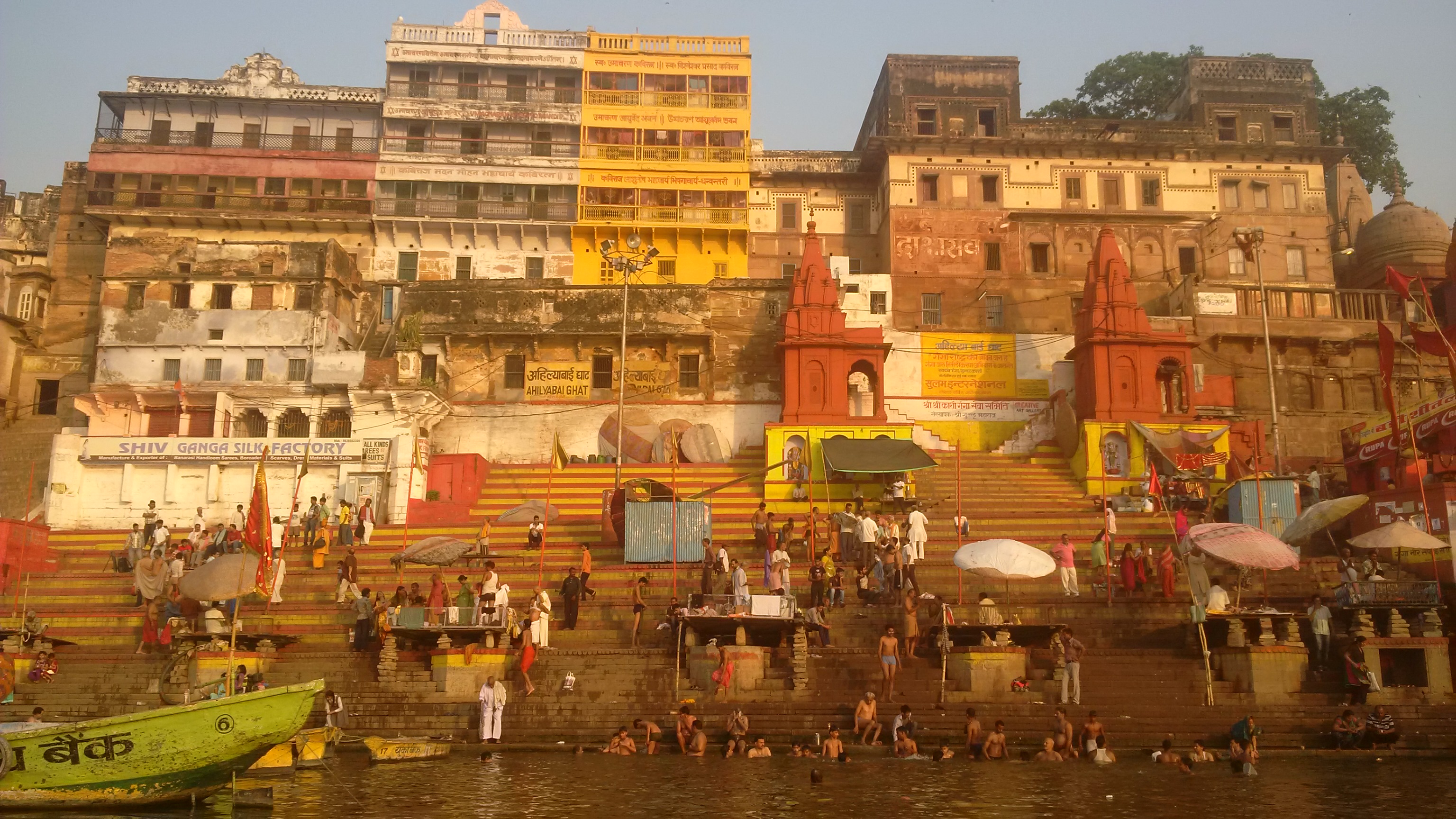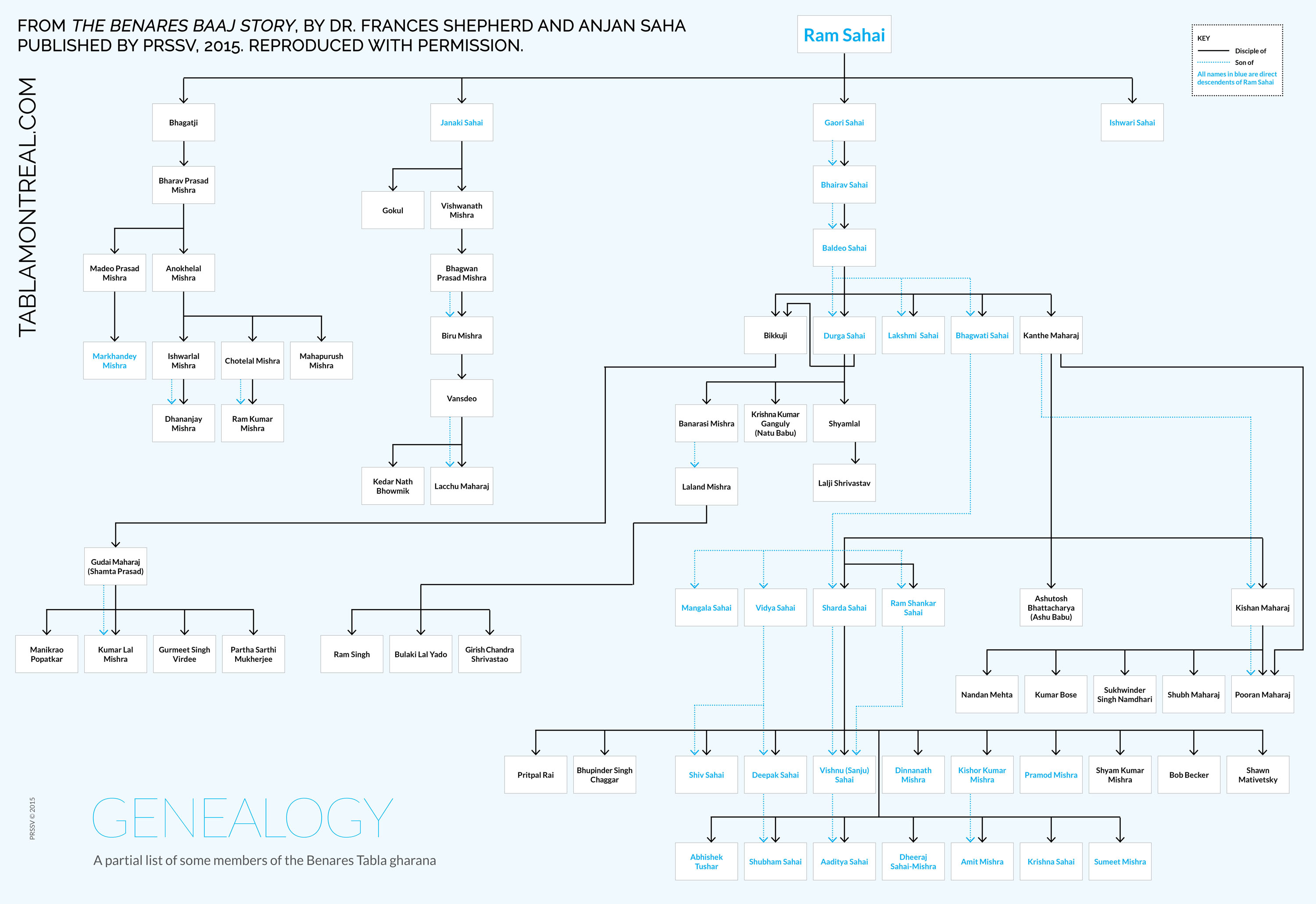 ---

The tabla baj that is today associated with the city of Benares was developed over two hundred years ago by the legendary Pandit Ram Sahai. A child prodigy in his native city, he became a disciple of Ustad Modhu Khan (grandson of Sidhar Khan of Delhi) a musician in the royal court of Nawab Asafuddaula in Lucknow. During his twelve year apprenticeship with Modhu Khan, Ram Sahai amassed a prodigious repertoire of compositions and mastered the art of improvised elaborations on a given theme. When he was 21 years of age he made his debut performance at the court of Nawab Wazir Ali and accomplished the astounding feat of playing a tabla solo which continued uninterrupted for seven consecutive nights without reptition of a single piece.
In the middle of his career Ram Sahai retired from public life and turned his attention to the creation of a new style of tabla playing. Through major changes in the position of the hand on the drum and a more efficient use of the fingers he increased the tabla's range of tone and dynamics. In addition to composing numerous pieces in the existing forms he introduced several new types of compositions which have come to be associated exclusively with the Benares baj. The new style was eminently suitable not only for solo playing, but for any type of music from heavy classical dhrupad singing (usually accompanied by the pakhawaj drum), to the lighter forms of thumri and tappa, to all styles of instrumental music, and lastly, to Kathak dance.

Disciples: Janaki Sahai, Ishwari Sahai, Gaori Sahai (brothers), Bhairov Sahai (son), Bhagat-ji
Source – Pandit Sharda Sahai: The Art of the Benares Baj (CD), notes by Bob Becker, Neil Craig, Dr. Frances Shepherd.
---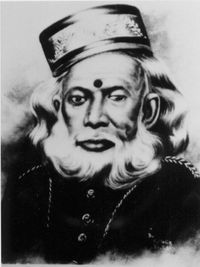 Pandit Bhairav Sahai (1815-1894)
Nephew of Ram Sahai (Son of Gaori Sahai, Ram Sahai's brother)

Bhairav Sahai became a disciple of Ram Sahai at the age of five. Ram Sahai had become very ill, so he gave his discples to his brother Janaki to be taught and only taught Bhairav. After the death of Ram Sahai, Bhairav learned from his uncle, Janaki. By the time Bhairav was eighteen, he is said to have become a very accomplished artist who had gained fame as a soloist and as a very versatile accompanist. He was highly respected by musicians of the time.

Bhairav Sahai spent some time in Nepal, after having been invited to play in the court of Jung Bahadur Rana. He was asked to be an artist of the court, but refused. He was then given numerous gifts, including a horse, a sword, money, and some jewels. He was also given a Colonel's uniform, and was named Colonel.

Disciples: Baldeo Sahai, Bhagwan Mishra (--> Biru Mishra --> Bansdeo Prasad --> Lachchu Mishra)

Source: Dr. Frances Shepherd
---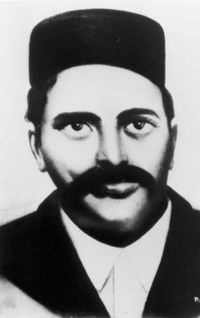 Pandit Baldeo Sahai (1856-1906)
Son of Bhairav Sahai


Baldeo Sahai was a disciple of his father, Bhairav Sahai. After the death of his father, Baldeo Sahai went to Nepal, and spent the latter part of his life there. He was given a house by the King of Nepal, who was very fond of him. The King named him 'Vadyaras Raj' (king of sweet playing). When Baldeo Sahai played a solo, it was said that his tabla sounded like Krishna's flute, and that he had the power of mohini (enchantress).


Disciples: Bhagvati Sahai, Durga Sahai, Lakshmi Sahai, Bikku Mishra, Kanthe Maharaj

Source - Dr. Frances Shepherd
---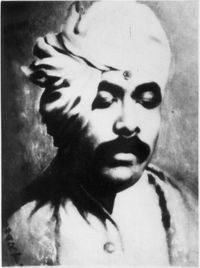 Pandit Durga Sahai (Surdas) (1892-1926)
Son of Baldeo Sahai

Durga Sahai became blind when he was very young, and the title Surdas (blind) was appended to his name. He was most widely known by his nickname, Nanhu-ji. As a child, everyone who came into contact with Durga Sahai remarked on the energy that seemed to radiate from his hand when he touched you. His hand appeared to be moving all the time. It is said that God's gift to him is that neither in the past, nor in the future, could any tabla player play faster than he. He was an excellent soloist, but is remembered for his skill as an accompanist. Though he could not see, he was unsurpassed in the field of accompanying, including kathak dance.

Disciples: Syamalal, Benarasi Mishra, Natu Babu

Source - Dr. Frances Shepherd
---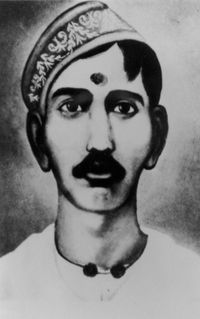 Pandit Lakshmi Sahai (1894-1935)
Son of Baldeo Sahai


Lakshmi Sahai was a very versatile musician, playing all instruments and singing. He devoted his life, however, to looking after Durga Sahai, and going everywhere with him.



Source - Dr. Frances Shepherd
---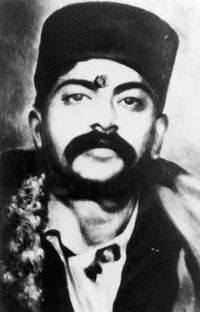 Pandit Bhagvati Sahai (1896-1946)
Son of Baldeo Sahai


Bhagvati Sahai, the youngest of Baldeo Sahai's sons, also became a famous tabla player. He played fard faster than anyone else. Anokhelal Mishra often said that he would go listen to Bhagvati Sahai practice, and that he tried to play as much as he could like him. Bhagvati Sahai had four sons, and they all learned to play tabla.


Source - Dr. Frances Shepherd
---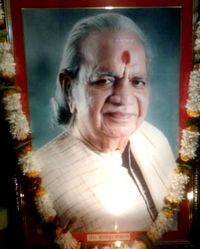 Pandit Sharda Sahai (1935-2011)
Son of Bhagvati Sahai


Pandit Sharda Sahai was born in Benares in 1935, a direct descendent of Pandit Ram Sahai, the founder of the Benares style ("gharana") of tabla playing. With the inherent gift in his blood of the finest traits of the Benares baj, he began at an early age to learn tabla from his father, the late Pandit Bhagvati Sahai. Following his father's demise in 1946, he became a disciple of the inimitable Pandit Kanthe Maharaj, himself a disciple of Sharda Sahai's grandfather, Pandit Baldeo Sahai.
Sharda Sahai started his professional career at the age of nine, performing both as a soloist and as an accompanist. He made his major public debut when he was sixteen, appearing at the Italee Music Conference in Calcutta with the sarod maestro Ali Akbar Khan. His professional activities in India have included appearances as soloist and accompanist at all of the important music conferences and festivals as well as performances with every major artist of North Indian classical music.
He was awarded "A Grade Artist" status by All India Radio in 1965. Also in 1965 he founded the Pandit Ram Sahai Sangit Vidyalaya, an institute for training in classical music and dance, located in Benares.
Sharda Sahai has performed over one thousand concerts worldwide. His solo performances have been broadcast on All India Radio's prestigious National Program. His accompaniment experience includes every major artist of North Indian classical music- among others: sitarists Ravi Shankar, Vilayat Khan, and Nikhil Banerjee; sarodists Ali Akbar Khan and Amjad Ali Khan; violist V.G. Jog; and dancers Gopi Krishna, Birju Maharaj, and Sitara Devi.
In February, 1970 Sharda Sahai made a highly successful tour of Europe, the United States, and Canada with sarodist Amjad Ali Khan. His tabla playing made a powerful impression everywhere he played, and in September, 1970 he returned to the United States to accept an appointment as Artist in Residence with the World Music Program at Wesleyan University. He remained with Wesleyan University for five years, during which time he was also a visiting professor at Brown University and Berklee School of Music. Sharda Sahai's superb ability as a performer is matched by his ability as a teacher. Few Indian musicians of his caliber have held as many teaching positions at such prestigious western universities. In recent years he has been dividing his time between busy teaching schedules, ongoing summer tabla training programs in the U.S. and Canada, and the administration of the Pandit Ram Sahai Sangit Vidyalaya in the U.K. In the U.K., he was a Senior Lecturer at Dartington College of Arts for six years, and he currently teaches tabla at Leeds University and at Oxford University.
Sharda Sahai's reputation as a tabla virtuoso in India and in the West is unmatched. His position as the direct descendent of Pandit Ram Sahai, the founder of the Benares tabla baj (style), has endowed him as the bearer of a prodigious and closely guarded repertoire of composed material. As the fountainhead of the Benares Gharana, all of his performances are paradigms of the popular and respected Benares style. Many of the younger generation of tabla players and even some older players, from within the Benares Gharana and from outside the gharana, look to Sharda Sahai's playing as the authoritative model of the Benares style- a style which many tabla players attempt to emulate and incorporate into their own repertoires.
Though Sharda Sahai is a guardian of tradition, he is extremely well versed in fusion of North Indian classical music with other styles. He has accompanied the well known South Indian violinist L. Shankar, and has performed jugal-bandi (duet) concerts with the leading exponents of the South Indian mridangam: Shivaraman, T. Shakaran, and R. Raghavan. In the West, he has performed with the avant garde composer John Cage, and the internationally acclaimed percussion group Nexus. At EXPO '86 in Canada, at EXPO '88 in Australia, and at the Commonwealth Drum Festival in England, he performed with the World Drum Ensemble, a conglomeration of over one hundred drummers from around the world performing on the same stage.
Few musicians in the world attain Sharda Sahai's level of virtuosity. Whether he is demonstrating his mastery of the tradition or his versatility in adapting to different styles, his performances are spellbinding. Amidst the modernization of India and the real danger that the important traditions of Indian classical music may become diluted and faded, it is comforting to know that one can still experience a performance played as the founder of the Benares Gharana in the 1700's would have played it. The tradition lives through Sharda Sahai.
Other contemporary disciples of Sharda Sahai:
Deepak Sahai, Dinnanath Mishra, Kishore Kumar Mishra, Shiam Kumar Mishra, Ramu Pandit, Shiv Sahai, Gobin Misra, Ram Borgaokar, Ray Dillard, Niel Golden, Frances Shepherd, Jeff Deen, Todd Hammes, Ravi Singh, Tim Richards, Bhupinder Singh, Caroline Howard-Jones, Bob Becker, Shawn Mativetsky, Payton MacDonald, Abhishek Mishra, Ashish (Dheeraj) Mishra, Sumeet Mishra, Gokul Mishra.
Sources: www.vickirichards.net, www.sahai.org
---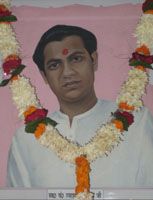 Pandit Ram Shankar Sahai (1938-1970)
Son of Bhagvati Sahai
---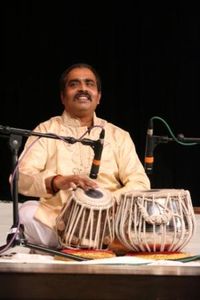 Deepak Sahai (1965 - )
Son of Vidhya Sahai (sarangi player, son of Bhagvati Sahai), disciple of Sharda Sahai

Deepak Sahai hails from one of the oldest and most respected music lineages in India. He is the direct descendent of the famed Pandit Ram Sahai and represents the sixth generation of the Benares Gharana of tabla playing. His Guruji and uncle was the legendary Pandit Sharda Sahai.
He gave his debut concert in Calcutta, at the age of 16. Since then he has performed widely across India performing with many of the great artists including Padmashree Uma Sharma of Delhi, Padmabushan Sitara Devi (kathak) and Pashupatinath Mishra (vocal).  He is member of the acclaimed tabla trio, Benares Dhamaka, which Pandit Sharda Sahai established with three of his leading disciples in India.
Deepak's playing is highly respected for his beautiful tonal control, strength of sound and musicality; this coupled with his in depth knowledge of solo and accompaniment traditions makes for a truly formidable artist.

Source - PRSSV
---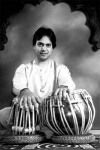 Sanju (Vishnu) Sahai (1968 - )
Son of Sharda Sahai

Sanju Sahai is one of the most sought after tabla players of his generation. He is a direct descendent of Pandit Ram Sahai, the founder of the Benares style of table playing. He has accompanied some of India's legendary musicians. Apart from playing in classical tradition he has gone to work with the genres as diverse as Egyptian, Spanish, African, jazz and Irish music as well as composing various pieces for ensembles. He has toured worldwide and has made various recordings. His solo tabla CD is entitled The Benares Touch.
Source – www.chakardar.com

 
---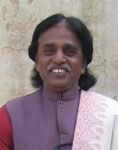 Pandit Kishor Kumar Mishra (1954 - )
Disciple of Sharda Sahai

Kishor Kumar Mishra was born in Varanasi in 1954, in a traditional family of musicians. At the age of ten, he began his tabla studies with his father, Pt. Bhagwan Das Mishra, who was a respected sarangi and tabla player, himself a disciple of the renowned Pt. Anokhelal Mishra. He later became a disciple of Pt. Sharda Sahai. (Kishor Kumar Mishra is also the son-in-law of Pt. Samta Prasad.)

He has been an All India Radio and Door Darshan A grade artist since 1993. His devotion and honesty as an artist have resulted in him being a highly respected tabla player, having been invited to perform in music festivals across India and internationally. He has accompanied many renowned artists, such as Smt. Girija Devi, Pt. Chhannu Lal Mishra, Pt. Rajan Sajan Mishra, Pt. Mahadev Prasad Mishra, Pt. Amarnath Mishra, Smt. Purnima Chaudhury, Dr. N Rajam, Ronu Majumdar, Pt. Vishwa Mohan Bhatt, Pt. Birju Maharaj, Smt. Sitara Devi, Natraj Mohan Krishna, amongst numerous others.

Pt. Kishor Kumar Mishra currently lives in Varanasi, where he is employed at the Faculty of Performing Arts of Banaras Hindu Univeristy (BHU). He has many disciples around the world, and is involved actively in spreading the traditions of the Benares gharana.

Source - Amit Mishra
---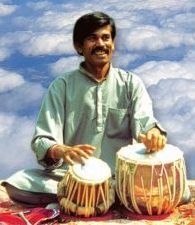 Pandit Shyam Kumar Mishra
Disciple of Sharda Sahai

Born in Benares, Shyam Kumar Mishra belongs to a family of great musicians and kathak dancers. He took up his tabla-studies with Pt. Sharda Sahai at the age of six. Since his youth, he has regularly given concerts, galas and workshops for delighted audiences in India and Europe. He was the first percussionist working for All India Radio and at the College of Music at Benares Hindu University. In 1972 a concert was aired, lasting twelve and a half hours without interruption; he was awarded a gold medal for this achievement. In 1989 he was honoured as the best Benares-style tabla-player. He has numerous disciples in both Benares and in Kathmandu, Nepal.

Source - Polyglobe
---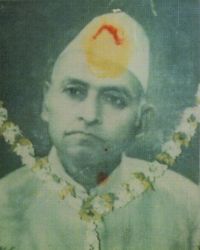 Pandit Kanthe Maharaj (1880-1969)
Disciple of Baldeo Sahai

Born in 1880 in Kabir Chaura, Benares, Kanthe Maharaj. He was the son of tabla player Pandit Daleep Mishra, and disciple of Baldeo Sahai. He had an illustrious career accompanying all the renowned singers, instrumentalists and dancers of the day. He was famous for his meticulous practice, revelling in the beauty of each individual sound.

Disciples: Kishan Maharaj, Ashu Babu, Biswanath Bose
Photo source – Pandit Sharda Sahai: Compositions of Benares (CD)
---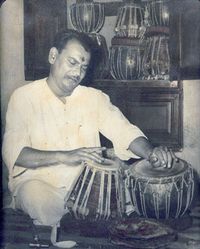 Pandit Kaviraj Ashutosh Bhattacharya (Ashu Babu) (1917-2004)
Disciple of Kanthe Maharaj
Famous as both an extraordinary tabla player and teacher and reputed Ayurvedic doctor, Asu Babu was born in the holy city of Varanasi (then known by its British name of Benares), the son and grandson of famous Bengali Ayurvedic doctors. As a boy he expressed an interest in learning drums and started learning pakhawaj at the age of 8 from Pandit Ram Nath Mishra. A few years later he saw a performance of Pandit Kanthe Maharaj, one of the great tabla players of the Benares Gharana and decided he wanted to learn tabla from him.
As a young man he was already a rising star, playing his first conference, in Allahabad, at the age of 21 with the legendary Ustad Allauddin Khan. Shortly thereafter he was to follow in the footsteps of his father and grandfather in studying Ayurvedic medicine in Delhi. At the same time as taking lectures, studying and gaining practical experience in his medicine guru's clinic, he was maintaining his tabla practice, giving lessons on Sundays and performing concerts and radio recitals with the likes of Pandit Ravi Shankar, Ustad Ali Akbar Khan and Ustad Vilayat Khan.
After completing his degree and returning to Varanasi, he set up his medical practice and continued to give tabla performances, learn from his guru-ji and practise around 6 hours a day, receiving many awards for his musicianship. During this period he played with most of the "greats" of 20th century Indian classical music, including Ustad Hafiz Ali Khan, Ustad Mushtaq Ali Khan, Pandit D.V. Paluskar, Pandit Nikhil Banerjee, etc etc. In 1952 he performed in "that concert" – Ustad Allauddin Khan, his son Ustad Ali Akbar Khan and Pandit Nikhil Banerjee accompanied on tabla by Ustad Kanthe Maharaj and his senior disciple, Asu Babu, gave a 3 1/2 hour performance together in the early morning during an All-India Music Conference in Calcutta. Despite such incredible achievements, he always thought of medicine as his profession and music as his hobby, so he never took money for concerts except for expenses like travel, food and lodging.
Among his favourite expressions were "Ek sade, sab saden; sab sade, sab jayen" ("Know one, know all; try all, all will be nothing") and "Everything depends on practice!"

Disciples: Debabrata Bhattacharya (1955- ), Tapan Bhattacharya, Shen Flindell (1972- )
Source: Shen Flindell
---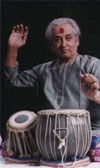 Pandit Kishan Maharaj (1923-2008)
Nephew and disciple of Kanthe Maharaj

Pandit Kishan Maharaj is considered to be one of the finest Tabla players of our time. Kishan Ji was born in the year 1923, on the auspicious day of Sri Krishna Janamashthami, to a family that boasted of many professional musicians. Kishan Ji was initially trained in classical music by Pandit Hari Maharaj, his father for many years. After his fathers untimely death, his training was taken over by his uncle, Pt. Kanthe Maharaj one of the great old masters and himself a disciple of Pt. Baldeo Sahai. Kishan Ji proved himself as a great tabla player while under Pandit Kanthe Maharaj, and by the time he was eleven, he started performing in several concerts. Within a few years, Kishan Ji was sharing the same stage with stalwarts like Ustad Faiyaz Khan, Pandit Omkarnath Thakur, Ustad Bade Gulam Ali Khan, Pandit Bhimsen Joshi, Pandit Ravi Shankar, and Ustad Ali Akbar Khan besides many others.
Pandit Kishan Maharaj has the ability to play cross-rhythmsand produce complex calculations, particularly in tihai patterns, hence making him one of the most popular and respected Tabla players of our time. Known for being an excellent accompanist, Pandit Kishan Maharaj is extremely versatile and is capable of playing with any accompaniment, be it with the Sitar, Sarod, Dhrupad, Dhamar or even dance! Pandit Kishan has given a number of solo concerts during his career and besides accompanying legendary musicians, he has also given `Sangat` to some great dancers like Sri Shambhu Maharaj, Sitara Devi, Natraj Gopi Krishna and Pandit Birju Maharaj. Among all his compositions, his `Tala Vadya Kacheri` with the Mridangam Vidwan, `Palghat Raghu` is incomparable. Pandit Kishan Ji has extensively toured abroad and has participated in several prestigious events including the Edinburgh festival and Commonwealth Arts festival in U.K. in 1965.
Pandit Kishan Maharaj's disciples include some of the top Tabla players of today, including Pt. Kumar Bose, Pt. Balkrishna Iyer, Sandeep Das, Sukhwinder Singh Namdhari and many more. Pandit Kishan Maharaj is, today, a world-famous personality and is constantly invited to play in music festivals held in different parts of the world. He has recieved a number of awards and honours including the `Padamshree` in 1973, `The Kendriya Sangeet Natak Award` in 1984 and `The Hafiz Ali Khan Award` in 1986 besides many others.

Disciples: Pooran Maharaj, Sukhvinder Singh (Pinky), Sandeep Das, Vineet Vyas, Kumar Bose, Shubh Maharaj
Source – www.chakardar.com
---

Pandit Biswanath Bose (1928-1980)
Disciple of Kanthe Maharaj

Pandit Biswanath Bose was born on 19th of May, 1928 at Calcutta. His grandfather, Akshay Kumar Bose, 'Zaminder' of Pankabil, Jessore, an amateur tabla player, taught him to play the first beats of Rhythm. He was fortunate enough to have the guidance of Pandit Ananta Narayan Chattopadhyay of Lukhnow. Later he became a disciple of Pandit Kanthe Maharaj of Benaras Gharana. He was fortunate enough to accompany almost all the mæstros of Indian Classical Music.

Not only was he devoted towards teaching, but also formed an organisation in 1950, named "Akshay Sangeet Tirtha" in remembrance of the name of his grandfather. He had been promoting the young talents throughout his lifetime through this organisation.

Lifelong inspiration from his wife, Mrs. Bharati Bose, a great sitarist helped him to nourish and groom their three sons Kumar Bose, Jayanta Bose and Debojyoti Bose, who are at present artists of international fame. And, the circuit is, perhaps complete with his eldest daughter-in-law and wife of Kumar Bose, Smt. Kaberi Bose, who has already established her credentials as a vocalist of light classical variety, Bengali Tappa and Nazrulgeeti. After a colourful career he passed away in the year 1980 only at a prime age of 52.
Source – Kumar Bose Homepage
---

Pandit Kumar Bose (1953 - )
Son of Biswanath Bose and disciple of Kishan Maharaj

Pandit Kumar Bose – a personality of international repute precisely one of the few toppers in the world of Tabla was born in a God-gifted musical family of Calcutta (West Bengal). While his father Pandit Biswanath Bose was a distinguished tabla "Nawaz" of Benaras Gharana that he mastered under the stewardship of its legendary exponent Pandit Kanthe Maharaj, his mother Srimati Bharati Bose is the disciple of great Ustad Dabir Khan (Bincar) & Ustad Ali Akbar Khan.
Pandit Kumar Bose was initiated in tabla by his father. After his father's untimely demise, he came under the tutelage of Pandit Kishen Maharaj, the living legend of Benaras Gharana.
The superiority of Pandit Bose's genius is his ability to evolve a distinctive style of his own without diluting the purity of tradition in which psyche the audience becomes captive. This is most evident in his negotiations with the "Bnaya" (Bass Drum). His performance, as it is told is as pleasing as a 'raga' or melodious song. He is as much facile in accompaniment with music (vocal & instrumental) & dances as in Solos. Which is why he is sought after, both at home and abroad, by the entire community of Top Grade celebrity artists.
This successful and keen Tabla Mæstro has the rare distinction of highly appreciated performance with Zubin Mehta's Philharmonic orchestra besides several symphony orchestras conducted by Pt. Ravi Shankar, Yehudi Menhuin, Arnovich in England, Italy, China etc. Dynamically he performs in different kinds of Music of the world like Jazz, Pop, Rock etc. His duet with Prof. Semurani (Thumba player) of Iran was a big hit in the International Seminar, 1974 at Holland. It's also remarkable that inspite of a part of an orchestra he got a lot of unbounded fountain-love from the distinguished audience like India Festival Moscow (1988) and many others.
The respected Drum-specialist can drum Sri-khole, Pakhwaj, Dholak, Nal, Banga-Kanga etc. He was the Asstt. Music Director of Mrinal Sen's globally acclaimed film "GENESIS" with the music director Pt. Ravi Shankar.
His two brothers – Jayanta Bose a reputed lyrist, composer, harmonium soloist and singer, and Debojyoti Bose, a noted sarodia & music director, both are carrying the musical heritage neatly.
Source – Kumar Bose Homepage
---

Sukhvinder Singh (Pinky) (1965 - )
Disciple of Kishan Maharaj
Born September 1965 in the District of Ludihana, Punjab. Sukhvinder devoted himself to the study of rhythm.
He started his training at the age of 5 under the Pakawaj Samrat Ustad Nihal Singh of the Punjab Gharana learning the pakawaj. Being a child prodigy he gave his first solo performance at Birla Mateshwari Hall, Mumbai in 1978.
After receiving a sound foundation in Pakawaj, Sukhvinder had a desire to learn tabla from none other than the world renowned Tabla Samrat Pandit Kishan Maharaj of Varanasi (Benaras Gharana), a living legend in tabla playing. This intense urge of learning made him leave his home, family and childhood behind in late 1978 and proceed to Varanasi and dedicate his next eighteen years in the pursuit of tabla.
Pt. Kishan Maharaj saw the potential and dedication in the young Sukhvinder and gave him meticulous attention and tutelage. Pt. Kishan Maharaj takes pride in mentioning "Sukhvinder" as one of his best disciples who is carrying out the tradition of his "Banaras Baaj" (Banaras style of Tabla playing).
Sukhvinder has become a phenomenal tabla performer and is well known for his keen capability to capture the audience with his spontaneity, power and virtuosity during his performances.
Sukhvinder Singh has had a meteoric rise in popularity as an accompanist after several successful concerts with leading artists, such as Pandit Ravi Shankar, Late Ustad Vilayat Khan, Dr L Subramanuim (Violin), Ustad Amjad Ali Khan (Sarod), Pt. Hari Prasad Ji (Flute), Ustad Emrat Khan (Sitar), Ustad Fateh Ali Khan (Vocal), Pt. Ram Narayan (Sarangi), Pt. Jas Raj Ji (Vocal), and Ustad Sahid Parvez (Sitar). Sukhvinder has toured extensively across USA and India and has won a Grammy Award In 1994, with Ry Cooder for the Composition "A Meeting by the River".
Sukhvinder has also been a featured soloist with BBC Philharmonic Orchestra in London, and has also performed at the BBC Proms, he has more than 40 CD's in the markets worldwide, he also has a number of students, they have been learning from him for a number of years, they are also performing today.
Source – photo: www.chakardar.com, text: Taal Vadya Vidya
 
---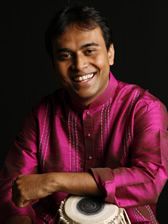 Sandeep Das (1971 - )
Disciple of Kishan Maharaj

Disciple of the legendary tabla maestro Pandit Kishan Maharaj ji of the Benaras Gharana, Das has carved out a niche for himself around the musical world. His concerts have taken him to major centers of music around the globe, including Carnegie Hall, Lincoln Center, Royce Hall, Royal Albert Hall, Hollywood Bowl and the Petronas Tower Hall in Malaysia.
Sandeep has composed for and performed internationally with the Silk Road Ensemble with Yo-Yo Ma since the group's founding in 2000. With the Ensemble, he performed at the United Nations General Assembly Hall in New York in 2008, played the BBC Proms in 2004 and 2009, and is the only Indian artist to have performed for the Opening Ceremony of the Special Olympic Games in Shanghai.
Sandeep's debut, at the age of 16, was with the legendary Pt. Ravi Shankar.
In India and abroad, Sandeep performs frequently with stars of Indian music such as Ustad Amjad Ali Khan, Pandit Shiv Kumar Sharma, Pandit Hari Prasad Chaurasia, Dr. L Subramaniam and Ustad Shujaat Khan, among many others. Das's talent for music and communication has allowed him to bridge the divide between Indian and Western classical music. In 1991, on his first trip outside India, Das performed with steel drum bands in Trinidad. In 2001 he performed a work composed by Kayhan Kalhor with the New York Philharmonic under the direction of Kurt Masur.
Sandeep has recorded music on more than 30 labels, including Virgin, Sony and Makar Records. His 2003 recording with Ghazal, including Kayhan Kalhor and Shujaat Khan, was nominated for a Grammy Award, as was the Silk Road Ensemble's 2009 album Off the Map, which included "Sulvasutra," a piece Evan Ziporyn composed for him.
Source - sandeepdas.com, Birches School
---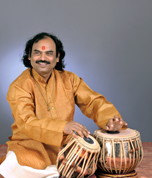 Arvind Kumar Azad
Disciple of Pt. Kishan Maharaj

Pune-based Arvind Kumar Azad is one of the senior-most disciples of the renowned tabla maestro Kishan Maharaj of the Benares gharana. Originally from Jamshedpur, Azad first started learning at a very early age from his illustrious father, noted tabla stalwart Lal Baboo. Azad belongs to the fourth generation of a family of tabla players. Later, Kishan Maharaj groomed him.

Arvindkumar Azad is sought as an accompanist for Indian classical music and dance, and is known for accompanying vocal and instrumental music as well. He has provided accompaniment to leading performers at prestigious music festivals held across India and has also traveled abroad for concerts.

Source - baajaagaajaa.com, arvindkumarazad.com
---

Bikku Mishra
Disciple of Baldeo Sahai
Disciples: Samta Prasad, Raganath Mishra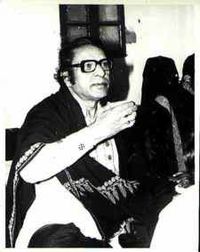 Pandit Samta Prasad (1921-1994)
Disciple of Bikku Mishra

Pandit Samta Prasad (also known as Godai Maharaj) is a legend in the realm of Indian classical music. Born on July 20, 1921 in Benaras, into a family steeped in the tradition of Tabla and Pakhawaj, he joined ranks with a long line of famous Benaras Gharana percussionists. Pandit Pratap Maharaj, his great grandfather was a sought after Tabla player of his time. Pandit Jagannath Mishra, his grandfather was a renowned Tabla and Pakhawaj player and his father Bachha Lal Mishra, although not so well known as a performer, was a respected Tabla teacher. It was with him that Pandit Shamta Prasad started his education in Tabla. Unfortunately, Pandit ji lost his father at the tender age of seven. However, this proved to be a boon in disguise because the demise of his first guru led to his shagirdi under Pandit Vikku Maharaj of Benaras who was a disciple of the legendary Pandit Baldev Sahai. It was under his tutelage that Pandit ji's talent burgeoned. Inspired by the great styles of Pandit Anokhelal Mishra and Ustad Habibuddin Khan Sahib and tutored by the discipline of his guru, Pandit ji embarked on a preordained journey. But inherited though it was, Pandit ji put in years of grueling hard work to make it the art the world witnessed. It is said that during his student years he used to put in 16/18 hours of riyaz (practice) every day. In fact, there is a story about his riyaz: When he was in practice in his house, people would see streams of water seep out from under the door and know that it was Pandit ji's sweat.
In 1942, at the age of 21 Pandit ji participated in his first major music conference in Allahabad. His performance created a stir in the audience. The august musicians present in the conference were stunned and jubilated to hear Pandit ji. A star was born. From that glorious moment till the time of his death in 1995, Pandit Shamta Prasad carved out a niche for himself in the history of Indian classical music. He performed all over India as a soloist and as an accompanist. He also performed in some Hindi films like Jhanak Jhanak Payal Baje and Basant Bahar. From time to time he accompanied various Indian Cultural delegations to the West.
Pandit ji's contribution to music is immeasurable, but the qualities that make his baj (tabla playing) a true offering to the art, are the reason for his greatness. A distinct style of the application of kaida, peshkar, laggi and especially the chhand are the mark of his music. Taal to him was not just a mathematical configuration of syllables and beats, it was an ensemble of rhythms. And these rhythms were compounded with such a resonance, it gave evidence to the power and flexibility of his fingers. But it was controlled power that did not compromise clarity and melody. It is rightly said that Pandit Shamta Prasad played the Tabla with his heart and soul.
Pandit ji imparted his knowledge to many students. Among the most well known of his shagirds are Partha Sarathi Mukherjee, Naba Kumar Panda (AIR Cuttack) and Satya Narain Vashist. His two sons, Kumarlal and Kailash are also Tabla players, although not in the same league as some of his other students.
Source – text: www.chembur.com, image: Toronto Gharana
---
Bhagat-ji
Disciple of Ram Sahai

Bhairov Prasad Mishra
Disciple of Bhagat-ji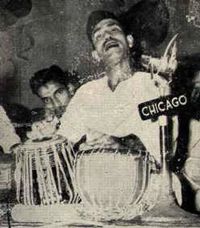 Pandit Anokhelal Mishra (1914-1958)
Disciple of Bhairov Prasad Mishra

Pandit Anokhelal Mishra was born in Kashi in 1914. He belonged to the Benaras Gharana of the Tabla. Both his parents died when he was very young and he was brought up by his grandmother. She detected his talent and enrolled him as a student of the Tabla in the Benaras Gharana of Ram Sahaiji. As a child, Anokhelal had to suffer poverty and deprivation. He was put under the tutelage of Pandit Bhairavprasadji, who gave him a rigorous education for 15 continuous years. This really worked wonders. Anokhelal put in unremitting practice, which went on for hours together, every day.
Anokhelalji's relentless practice lent a unique clarity to his Tabla syllables. He was applauded for his superb 'Nikas' (sound production). He was called the wizard of 'Na Dhin Dhin Na'. He could play these syllables with exceptional clarity, even at a supersonic speed. This assured him a place in history. Anokhelal was a soloist as well as an excellent accompanist.
At a time, when appearance in the National Programme of Music on All India Radio was a matter of immense prestige, Anokhelal figured in the same, a number of times. In the late fifties, his programmes were broadcast by the Voice of America as well. He was afflicted by Gangrene in 1956 and succumbed to it in 1958 at the very young age of 44. Humble and friendly by nature, he was popular all over the country. To him goes the credit of making the audience familiar with the Benaras style of Tabla. Anokhelal trained a number of pupils. His son Ramji Mishra, the late Mahapurush Mishra, Ishwarlal Mishra, Chhotelal Mishra and Kashinath Mishra are some of the prominent pupils of Pt. Anokhelal Mishra.
Source – photo: Patrick Moutal, text: www.dhadkan.com
---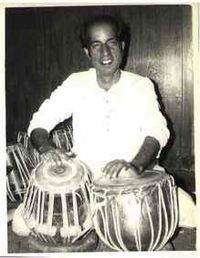 Ram-ji Mishra
Son of Anokhelal Mishra
Source – Patrick Moutal
---


Mahapurush Mishra (1932-1987)
Disciple of Anokhelal Mishra
Mahapurush Mishra was a disciple of Pandit Anokhelal Mishra, a revered master of tabla. Mahapurush was a famous tabla accompanist to many topmost musicians and a professor at the Ali Akbar College of Music in Calcutta (now Kolkata). He spent most of his time during the late 1960s in USA teaching, recording, and appearing widely in numerous classical music concerts. There are far too few of his tabla solos in circulation.

Longtime tabla master, sideman to the stars, and Ustad Ali Akbar Khan's main accompanist throughout the better part of three decades until his death, Pandit Mahapurush Mishra has also appeared on the Beatles b-side of Lady Madonna, George Harrison's The Inner Light (recorded in Bombay in January 1968 with the vocal tracks added in London the next month) as well as on Harrison's Wonderwall soundtrack.

Image Source – Toronto Gharana, Text source - Miles Shrewsbury
 
---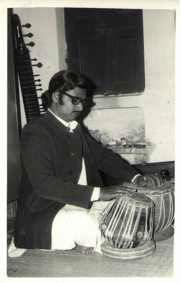 Chotte Lal Mishra (1940-2013)
Disciple of Anokhelal Mishra
Image Source –Patrick Moutal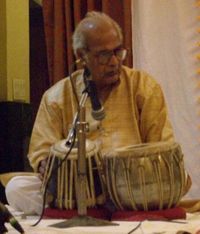 Pandit Ishwar Lal Mishra
Disciple of Anokhelal Mishra 
---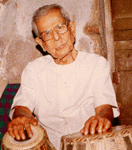 Krishna Kumar Ganguly "Natu Babu" (1905-1993)
Disciple of Durga Sahai

Krishna Kumar Ganguly, popularly known as Natu Babu, the fourth son of Sri Surath Nath, was born in November 1905 and lived in their ancestral Tallah home in Kolkata.
Music was already in the family as Surath Nath's elder brother Pandit Manmatha Nath had considerable expertise in tabla. Drawn to tabla naturally, young Natu expressed his keenness to learn the idiom to his father. Though initially rather reluctant, Surath Nath took Natu to Chunilal Banerjee, a friend and a reputed tabla player. For three years Natu Babu trained with Chunilal Babu. Later he trained under Pandit Durga Sahai for ten years. Natu Babu blossomed into an accomplished tabla player, but to satisfy his hunger for knowledge he studied with Pandit Purushottam Mishra for five years. He trained in the Lucknow style under Chhotan Khan for eight years. From Basid Khan and Labban Khan, he mastered a number of Delhi Gharana compositions.
Pandit Kanthe Maharaj of Benaras came to live in Calcutta in 1937 and at Chhotan Khan's behest Pandit Kanthe Maharaj trained Natu Babu till 1969. Thus Natu Babu imbibed training from the Lucknow & Benaras Gharanas simultaneously.
Such a highly talented person remained an introvert and a bachelor. All praise that came his way, he politely ascribed to his gurus. He avoided all honours which the music world wished to confer on him. He taught his students without charging any fees as he believed that if he taught his students selflessly then after rebirth he would get a better Guru among them. He was an advocate by profession and spent all his earnings for the betterment of his disciples. Even he performed at concerts without any remuneration.
Natu Babu passed away on 3rd July 1993, leaving behind Sri Gour Pal, Sri Samar Saha, Sri Tarak Saha, Sri Lakshmi Narayan, Sri Nirmal Ganguly and many other pupils.
Source – Sangeet Piyasi
---